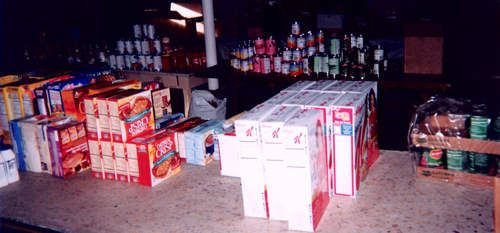 Loaves & Fishes & Loaves & Fishes Food Pantry
Located at the Dominican Sisters' Convent in Sabattus, Maine
Based on the Scripture of Jesus' miraculous multiplication of the loaves and fishes, our group was established to provide a no-interest revolving loan fund for people in crisis.
Loaves & Fishes and the Loaves & Fishes Food Pantry is headquartered in the Sabattus Dominican convent, and serves all qualified residents of the Sabattus area, regardless of religious affiliation.
The program extends to a clothes closet and the Loaves & Fishes Food Pantry, also housed at the convent. The L & F food pantry receives food from the USDA food program through Community Concepts and purchases food by the pound at the Good Shepherd Food Bank for weekly and emergency distribution to all Sabattus area residents.
Since 1997, thanks to the generosity of so many, Loaves & Fishes has loaned money to many families in crisis.
Loaves & Fishes is made up of an all volunteer Board of Directors that is comprised of community members, active and retired business professionals and recipients of Loaves & Fishes.
Loaves & Fishes has no administrative costs because the facilities and supplies are donated by the Dominican Sisters.
Loaves & Fishes has a full time volunteer director and a part time associate director who interviews prospective clients and arranges for loans. This director is also a certified budget/credit counselor who works with families who have credit problems.
Loaves & Fishes' recipients are all ages and are very low to moderate income
Loaves & Fishes helps people pay for utility bill, taxes, replacement furnaces, prescriptions, mortgage payment, car payments and repairs, home repairs and rent security deposits.
Loaves & Fishes and the Loaves & Fishes Food Pantry are dependent on loan repayments, donations and fundraisers.
The Need is Great:
There is a lot of work that goes in fundraisers and the money is desperately needed. When you read in the Lewiston Sun Journal about the needs of the Good Shepherd Foodbank among others, know that our own food pantry has doubled its number of recipients in the last months... not to talk about the furnace breakdowns, oil requests, mortgage payments to avoid evictions or CMP bills to avoid disconnection!
Monique Schreiber can vouch for this as she has now taken over her responsibilities as Assistant Director of Loaves and Fishes.
If anyone has an idea for a new fundraiser, we welcome it. Loaves and Fishes' needs are greater than ever and donations are down.
With more cuts coming from Augusta, many social services programs will be cut. This will put even more pressure on local charities. If you can't help with fundraisers, pray for a miracle that will fill our coffers once again.
Monetary donations in the form of a check can be made out and mailed to: Loaves & Fishes, 61 Lisbon Road, Sabattus, ME 04280. You can also deliver your donation personally at the same address.

Tax Deductions: If you wish to itemize your donations for tax credit, please prepare a list of goods to be donated and their monetary value before making your donation. This list can be signed by Sister Lucille when you make your donation.