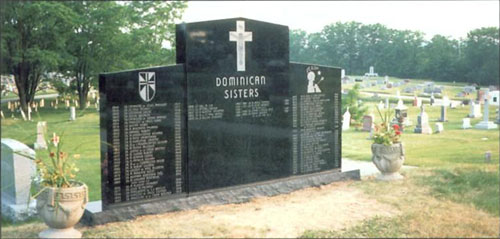 "O Lord Our God, all that we have brought together to bulld a house In honor of your holy name comes from you and is entirely yours." I Chr. 29, 16.
We Bring Forth The Memory Of Our 80 Deceased Sisters In The Last 75 Years. Ministered In Sabattus In Various Capacities.
(1935 – 2014)
They are Sisters Emerentienne Richard, Marie de L'Annonciation Legigan, Isidore Albert, Patrick Doonan, Albert Giguere, Bernard Dominique Noel, Aloysia Casavant, Marguerite du S. C. Boeglin, Benoit Fontaine, Rose de Lima Fortier, Tarcisius Cloutier, Louise du S. C. Paris, Emilie Cloutier, Marie du Calvaire Truchon, Imelda Dutil, Monique Desrochers, Margarita Laplante, Helene de la Croix Deslauriers, Germaine Largeteau, Bernard Desjardins, Paul Dominique Herlin, Bienvenue Bolduc, Alphonsine Desjardins, Marguerite de Jesus Durup, Bernadette de Jesus Couture, Marie de St. Luc Videlier, Marthe Begin, Theresa Marchesini, Raymond Marie Rattey, Christiane Aymen, Antonin Caron, Alexina Laurendeau, Agnes des Anges Paradis, Jerome Lamy, Leopold Poirier, Francoise Dominique Tribot, Abel Marie Cyr, Beatrice Boutin, Blanche Laflamme, Dolores Valderrabano, Marie de St. Paul Barnel, Regina Casavant, Adele Carrier, Aline Lambert, Claire d'Assise Rene, Marie Grondin, Alice Poitevin, Marcelline Marchand, Gratienne Verville, Imelda Cote, Marie Reine Grondin, Andre de la Croix Benoit, Marie des Anges Leclerc, Rose Catherine Morin, Marie de Lourdes Levesque, Generosa Begin, Yvonne Chaput, Marguerite Bourgeois, Alice Fournier, Rita Marie Goulet, Adrien Paradis, Clement Paradis, Maria Sarto Moreau, Marie-Paule Nicknair, Carmel Beaudry, Francine Patrick, Pierre du Rosaire Lamothe, Anita Gosselin, Jean Frances Jacques, Mary Margaret Ouimet, Marie Mediatrix Paradis, Celine Bonenfant, Therese Hebert, Francoise Voukirakis, Margaret Elaine Arcand, Gertrude Michaud, Yvonne Comeau, Sylvie Pare, Timothy McHatten, Ange-Emile Hebert, Jeanne Couillard, Marguerite Gregoire, Lucille Therese Fournier, Mary Therese Marcotte.
May the souls of the faithful departed, through the mercy of God, rest in peace.