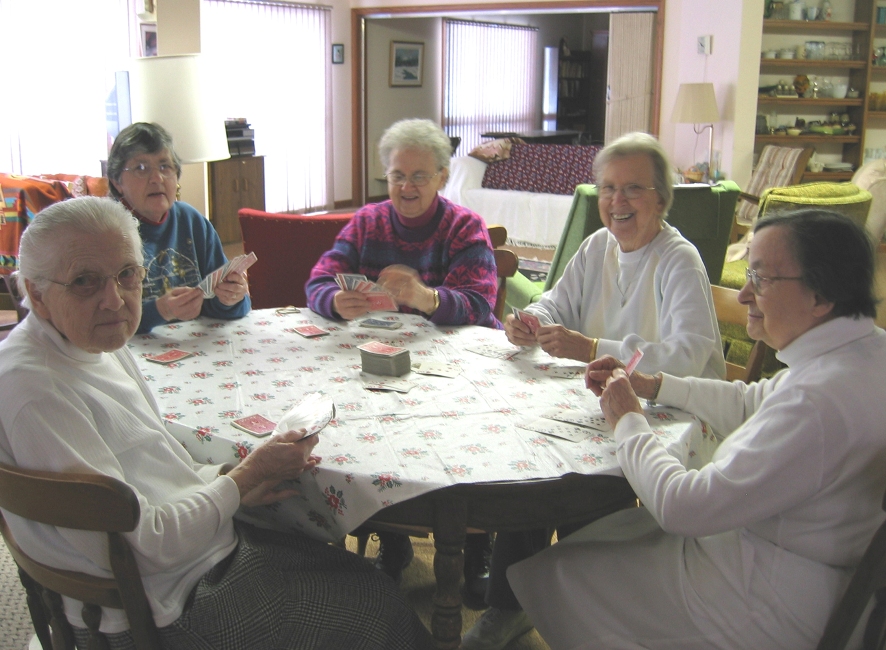 Sisters Pauline, Christine, Rita, Lucille, and Mary
.
The Dominican Sisters
The Dominican Sisters arrived in Sabattus and purchased the Sawyer farm for their dwelling in 1927, and have served Our Lady of the Rosary parishioners since those horse and buggy days of 1929. Sisters still remember the early farming days with the cows, the chickens, the drawing of water from the well, spending their vacations picking string beans and strawberries. They still have fond memories of many older parishioners, and retell exciting stories. A particular one, of course, is that of the benefactor bringing the teaching sister to school in a sleigh!
We remember the sisters who have passed away over the last 74 years. For a list of our deceased sisters, please visit this page. We also remember the sisters who have worked with us and moved on to new locations. These sisters worked at the parish as religious education coordinators, school principals, teachers, aides, and community and ministry supporters.
In 1986, because of a substantial and unaffordable amount of repairs to the Ave Maria convent requested by the US Dept. of Housing and Urban Development (HUD), the sisters had to abandon the convent. They held an auction sale on July 26, 1986 where everything was sold. The sisters of the Province managed to pool their resources and build the existing convent in order to continue staffing Our Lady of the Rosary school. The same year, the diocese made the decision to close the school. God's humor at work! The new convent was blessed on August 3, 1986 by Bishop Edward O'Leary, and my message to all present was nevertheless one of joy and hope. To quote my own words: "Our mission, as conceived by St. Dominic, is one of sharing God's Word with all of God's people. I hope this new dwelling place will serve as an invitation for everyone to 'Come and see the goodness of our God'." Little did I know at the time that the convent would literally be an extention of the parish as it is today. I rejoice, and I repeat on this day what I told the over 500 people at the open house in 1986 following the blessing mass: "Come in the morning, come in the evening; come when expected, come without warning. We want to share our house with you."

Our little town of Sabattus is located just South of Augusta, North of Portland, East of Lewiston and West of Brunswick.
We are presently 10 (ten) sisters in the Sabattus community. We serve either visibly or discreetly, as God calls us to. We are Sr. Pauline Bonenfant, , Sr. Renée Turcotte, Sr. Rita Pelletier, Sr. Therese Demers, Sr. Christine Plouffe, Sr.Dolores Cyr, Sr. Claire Descoteaux, and Sr. Jacqueline Provencher ..
Love,
Sr. Lucille Fournier, O.P. (deceased)